CBS TELEVISION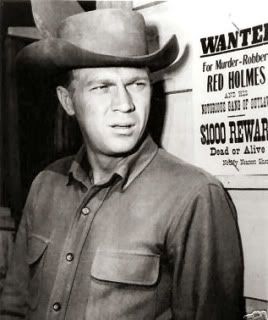 Information From IMDb
Plot Summary
A young man with a sawed off rifle as a holstered weapon makes a living
Series Cast
Steve McQueen ... Josh Randall (94 episodes, 1958-1961)
Wright King ... Jason Nichols / ... (11 episodes, 1959-1960)
Olan Soule ... Bartender / ... (6 episodes, 1959-1961)
Mort Mills ... Clark Daimler / ... (5 episodes, 1958-1960)
Warren Oates ... Billy Clegg / ... (4 episodes, 1958-1961)
and many others, including
James Coburn, Chuck Hayward, DeForest Kelley
Michael Landon, William Fawcett, Pedro Gonzalez Gonzalez
Noah Beery Jr.
Series Directed by
Thomas Carr (26 episodes, 1958-1960)
Don McDougall (24 episodes, 1958-1960)
and many others
Series Produced by
John Robinson .... producer (68 episodes, 1958-1960)
Trivia
* 'Steve McQueen' was hired after Jack H. Harris, who was producing The Blob (1958) gave him a glowing reference to Dick Powell (the head of Four Star Productions). Powell also asked for, and was granted, the opportunity to view a rough cut of that film.
* Steve McQueen's characterization of a sympathetic bounty hunter was first tested in an episode of the Western series, "Trackdown," which starred Robert Culp as a Texas Ranger.
* According to the A&E Biography profile of Steve McQueen (featured in the Season ONE DVD Set), McQueen took the role of Josh Randall because his prospects for acting in movies were drying up. When the series started becoming hit, McQueen began getting more and more noticed by the film industry. So much so that director John Sturges, who'd used McQueen in the war movie Never So Few (1959) cast McQueen in the western hit The Magnificent Seven (1960), the movie that launched McQueen's rise to stardom. After making "Mag-7", McQueen began to get more and more movie offers again and decided to quit the show to pursue his film career, thus canceling the series.
* After getting offered the chance to star in The Magnificent Seven (1960), McQueen found out that the only way he could do the film, which was being shot simultaneously with "Wanted: Dead or Alive", was to fake an accident or illness and get a medical leave from the series. According to his first wife, Nellie, McQueen accomplished this feat by "faking" a car crash in which he merely crashed his car into a tree, receiving minor cuts, muscle pulls, and bruises, and getting his medical leave. The series' production went on temporary hiatus while McQueen filmed "The Magnificent Seven".
* According to several episodes, Josh Randall was a war veteran having served in the Confederate Army during the Civil War.
* Initially, the creators of the series had a hard time selling the show because bounty hunters were thought to be unsavory characters and have been portrayed as such in numerous western shows and movies. The creators overcame this obstacle by having Josh Randall give most, sometimes ALL, of his earnings to help people such as the families of people murdered by the men Randall brings in, thus making Randall a sympathetic and likable character.
Filming Locations
Apacheland Movie Ranch, 4369 S. Kings Ranch Road, Gold Canyon, Arizona, USA
Corriganville, Ray Corrigan Ranch, Simi Valley, California, USA
Iverson Ranch, Chatsworth, Los Angeles, California, USA
Jack Ingram Ranch - 22255 Mulholland Drive, Woodland Hills, Los Angeles, California, USA
Vasquez Rocks Natural Area Park -Agua Dulce, California, USA
Western Street, Republic Studios - 4Los Angeles, California, USA