Which film tile should the JWMB purchase on the Walk of Fame?
10
Angel and the Badman (0)

0%

The Fighting Seabees (0)

0%

Flame of Barbary Coast (0)

0%

Flying Leathernecks (0)

0%

The High and the Mighty (1)

10%

Trouble Along the Way (0)

0%

Wake of the Red Witch (0)

0%
July 3, 2008

Fellow John Wayne fans,
Here's a new opportunity to further support the new museum and learning center. Right now you can purchase a 4" x 8" Tribute Brick with your choice of three lines of text (limited to 13 characters and spaces per line) and have it placed on the walkway leading to the front steps of the Birthplace home! (see photo) For all the bricks that were sold previously, those purchasers are being contacted and about 90% of them want to be a part of this new brick sidewalk project. In addition, about 100 4" x 8" bricks are still available for this project if anyone is interested. It is expected that they will go fast, since the word is being spread to everyone that is a member of the Birthplace Society and other fans as well.

Proceeds from the sale of these bricks support the effort to build the new John Wayne Birthplace and Learning Center--the ONLY museum in the world dedicated to John Wayne. This offer is only available while the supply of brick spaces lasts!

Go to Brickwalk for a direct link to the information for this special limited-time offer.
~~~~~~~~~~~~~~~~~~~~~~~~~~~~~~~~~~~~~~~~~~~~~~~~~~~~~~~~~~~~~~
May 25, 2008
I'm happy to report that we have reached our goal of $1500!!

We had a late arrival with a donation and that sealed the deal, and we're set to purchase the brick!
The Alamo Brick has been purchased, and will be engraved with the following: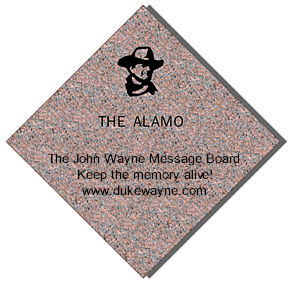 Thanks again to all who contributed to the JW walk of fame. We put our $$ where our mouth is with this effort, and we have put our mark on the museum, & and on this noble effort.
Kevin - JWMB Admin


We are kicking off the Walk Of Fame donation drive and we'll need your help!





Donate Today!




We are attempting to raise funds to purchase a granite block at the John Wayne Birthplace's planned museum. The Walk of Fame will connect the Birthplace home with the new Museum.
This is a great opportunity for the members here at the JWMB to contribute to the building of the new museum in Winterset, and make our mark in stone!




We are suggesting that JWMB members consider donating $50 - $100 so that we can shoot for the $2500 laser-engraved granite block. Of course, donations of ANY size will be gratefully accepted - each one will bring us closer to our goal. We are using PayPal to handle the electronic donations, but if you need to make a donation via postal mail then please contact us and we will get you that information.




You can follow the progress by watching the Goal meter at the top of each page of the site. As members contribute the meter will advance.




Thanks for your support!


Display More