BABY FACE
DIRECTED BY ALFRED E. GREEN
PRODUCED BY WILLIAM LeBARON/ RAYMOND GRIFFITH
WARNER BROS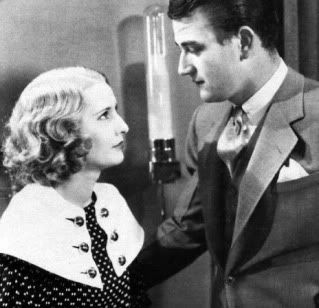 Photo with the courtesy of lasbugas

INFORMATION FROM IMDb
Plot Summary
Lilly (Baby Face) sleeps her way from basement speakeasy bartender,
literally floor by floor, to the top floor of a New York office building.
Bank submanager Jimmy McCoy finds her a job in the bank only
to be cast aside as she hooks up with the bank's president.
When he complains of not seeing her she says:
"I'm working so hard I have to go to bed early every night."
Summary written by Ed Stephan
Full Cast
Barbara Stanwyck .... Lily Powers
George Brent .... Courtland Trenholm
Donald Cook .... Ned Stevens
Alphonse Ethier .... Adolf Cragg
Henry Kolker .... J.P. Carter
Margaret Lindsay .... Ann Carter
Arthur Hohl .... Ed Sipple
John Wayne .... Jimmy McCoy Jr.
Robert Barrat .... Nick Powers
Douglass Dumbrille .... Brody (as Douglas Dumbrille)
Theresa Harris .... Chico
Walter Brennan .... (scenes deleted)
Joan Barclay .... Job seeker (uncredited)
James Bush .... Paris bank clerk (uncredited)
Charles Coleman .... Hodges (butler) (uncredited)
Heinie Conklin .... Speakeasy waiter (uncredited)
Cecil Cunningham .... Paris bank clerk (uncredited)
Frank Darien .... Paris bank agent (uncredited)
Arthur De Kuh .... Lutza (uncredited)
John Elliott .... Bank director (uncredited)
Harry Gribbon .... Doorman (uncredited)
Grace Hayle .... Mrs. Hemingway (uncredited)
Maynard Holmes .... Pratt (personnel office) (uncredited)
Edward LeSaint .... Bank director (uncredited)
Reginald Mason .... Gault (bank director) (uncredited)
James Murray .... Brakeman (uncredited)
Spec O'Donnell .... Office boy (uncredited)
Henry Otho .... Laborer (uncredited)
Nat Pendleton .... Stolvich (laborer) (uncredited)
Matty Roubert .... Newsboy (uncredited)
Cliff Saum .... Laborer (uncredited)
Charles Sellon .... Vanderlure (bank director) (uncredited)
Harry Semels .... Speakeasy drunk (uncredited)
Harry Tenbrook .... Laborer (uncredited)
Jacques Vanaire .... Paris bank clerk (uncredited)
Edward Van Sloan .... Jameson (bank director) (uncredited)
Sailor Vincent .... Laborer (uncredited)
Renee Whitney .... Office worker (uncredited)
Josephine Whittell .... (uncredited)
Harry Wilson .... Laborer (uncredited)
Toby Wing .... Office worker (uncredited)
Writing Credits
Darryl F. Zanuck (story) (as Mark Canfield)
Gene Markey (screenplay) &
Kathryn Scola (screenplay)
Cinematography
James Van Trees
Trivia
Originally banned in some US cities due to its sexual innuendo.
In spring of 1933 this film was submitted to the New York State Board of Censors, who rejected it, demanding a number of cuts and changes. Warner Brothers made these changes prior to the film's release in July 1933. In 2004, a "dupe negative" copy of the film as it existed prior to being censored was located at the Library of Congress. This uncensored version received its public premiere at the London Film Festival in November 2004, more than 70 years after it was made.
In the original 1933 sneak preview, Barbara Stanwyck's dialog in the opening sequence where she attacks her father for surrounding her with men since she was the age of 14 is intact, although it was actually cut from the release version.
Ship scene features same set used in "Three on a Match" a year earlier.
SPOILER: In the original version of the film, before changes were made to appease censors, the film ended with Lily finding that Courtland had killed himself. Censors forced the change to a relatively "happy" ending where it turns out that Courtland survived and it is suggested that Lily abandoned her pursuit of material wealth for true love.
Goofs
* Miscellaneous: After Lily mentions to Courtland she would like to be a Mrs., there are two shots of newspapers announcing the wedding. The second shot is a close up of two paragraphs. The first paragraph misspells Courtland's name as "Courtney" and the word company as "comany."
* Revealing mistakes: When Lily reads from Nietzsche's book, Thoughts Out Of Season, the page that's highlighted repeats the same paragraph above, and again below, the highlighted lines.
Filming Location
Warner Bros. Studios, Burbank Studios, Burbank, California, USA
(studio)
Watch this Clip