BIG JIM McLAIN
DIRECTED BY EDWARD LUDWIG
PRODUCED BY JOHN WAYNE/ ROBERT FELLOWS
WAYNE-FELLOWS PRODUCTION
WARNER BROS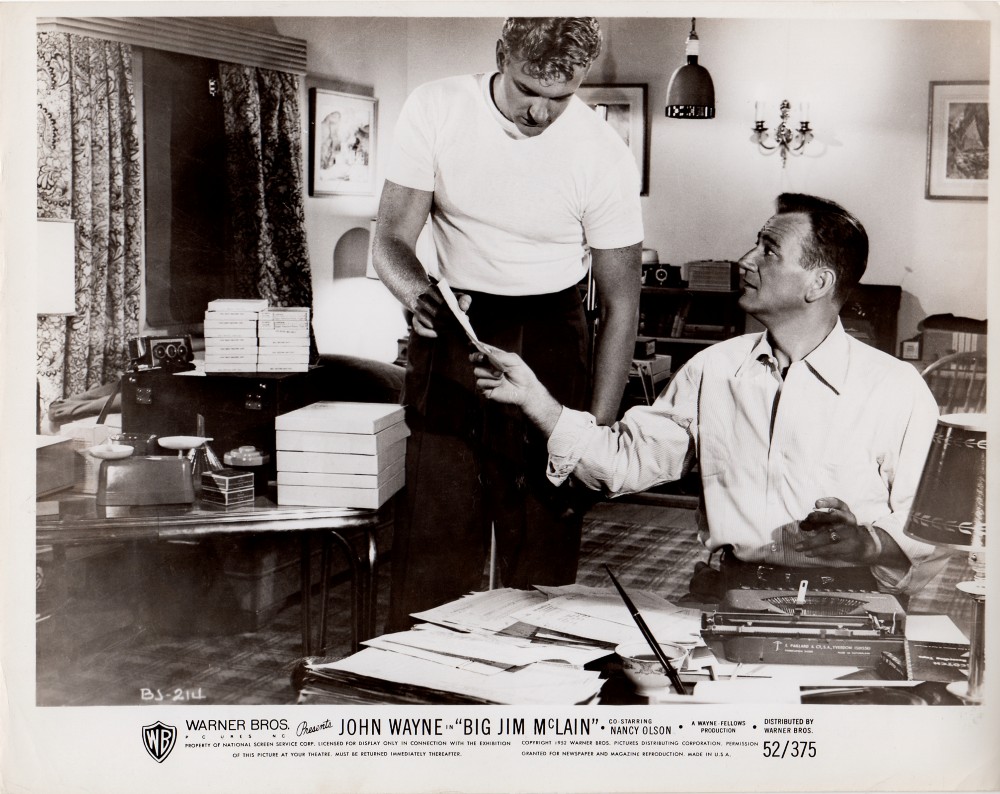 Photo with the courtesy of lasbugas

INFORMATION FROM IMDb
Plot Summary
U.S. House Un-American Activities Committee investigators Jim McLain
and Mal Baxter attempt to break up a ring of Communist Party troublemakers in Hawaii
(ignoring somewhat, as do their superiors in the Congress, that membership
in the Communist Party was, at the time, legal in the U.S.)
Summary written by Jim Beaver
Full Cast
John Wayne .... Jim McLain
Nancy Olson .... Nancy Vallon
James Arness .... Mal Baxter
Alan Napier .... Sturak
Veda Ann Borg .... Madge
Hans Conried .... Robert Henried
Hal Baylor .... Poke
Gayne Whitman .... Dr. Gelster
Gordon Jones .... Olaf
Robert Keys .... Edwin White
John Hubbard .... Lt. Cmdr. Clint Grey
Soo Yong .... Mrs. Namaka (as Madame Soo Yong)
Dan Liu .... Dan Liu, Honolulu Chief of Police
Vernon 'Red' McQueen .... Phil Briggs (as Red McQueen)
Peter Brocco .... Dr. Carter (uncredited)
Franklyn Farnum .... Nightclub extra (uncredited)
Robert Fellows .... Soldier boarding ship (uncredited)
Paul Fix .... Voice of Chauncey (uncredited)
Bess Flowers .... Nightclub extra (uncredited)
William Forrest .... J.E. Lowry (McLain's supervisor) (uncredited)
Sam Harris .... Nightclub extra (uncredited)
Douglas Henderson .... J.J. Donahue (soldier boarding ship) (uncredited)
Paul Hurst .... Mr. Lexiter (uncredited)
Edwin Layton .... Himself (uncredited)
Harry Morgan .... Narrator (uncredited)
Sarah Padden .... Mrs. Lexiter (uncredited)
Jeffrey Sayre .... Nightclub dance extra (uncredited)
Bert Stevens .... Nightclub dance extra (uncredited)
Deane S. Tavennier .... HUAC Committee member (uncredited)
Harry Tyler .... Waiter (uncredited)
Peter Whitney .... Commie truck driver (uncredited)
Jay Wilsey ... Mr. Whalen (uncredited)
Writing Credits
Richard English story
James Edward Grant screenplay
Eric Taylor story
William Wheeler story (uncredited)
Original Music
Paul Dunlap
Arthur Lange
Emil Newman
Hugo Friedhofer (uncredited)
Robert Wiley Miller
Non-Original Music
Max Steiner (stock music) (uncredited)
Cinematography
Archie Stout
Second Unit Director or Assistant Director
Andrew V. McLaglen
Trivia
Edwin Layton has a cameo that was arranged by the studio as a favor for getting permission for John Ford to film the actual Midway battle. Layton was the Pacific Fleet's Fleet Intelligence Officer at Pearl Harbor on 7 December 1941.
The first film produced by Wayne-Fellows Productions (later renamed Batjac Productions), John Wayne's independent production company.
Many scenes filmed in public places such as the restaurant scene with Gordon Jones appear to be "stolen", as the bystanders seem to be watching the scenes being played out rather than act like extras who normally do not pay attention to the action.
The German title is "Mathuana". In this dubbed version for the German market John Wayne plays a hunter of marijuana smugglers, not an investigator for the Un-American Activities Commitee ferreting out Communists, as in the original film.
Nancy Olson hated the script but she figured six weeks in Hawaii and a chance to work with an icon like John Wayne seemed a good enough reason to accept. Besides, she thought the film would flop and nobody would see it. She was right to a degree - it wasn't one of Wayne's more successful pictures - but she didn't count on the constant TV exposure it has had and says people stop her all the time to say they've seen her in the film. Olson, a staunch liberal Democrat, said she and Wayne would often have political arguments but she would always let Wayne have the last word.
John Wayne recorded an advertisement for Camel cigarettes on the set of Big Jim McLain (1952).
Goofs
# Continuity: When Olaf comes out of the house and sees Jim talking to Madge, the background changes between the wide shot of the three of them and the close-up of Olaf getting the axe.
# Continuity: When Jim returns one morning from looking for Baxter's murderer, he finds Nancy asleep. The amount of the rug covering Nancy changes between when he kisses her and when she wakes.
# Revealing mistakes: When the plane taking McLain to another island begins taxiing, the door is still partly open.
Filming Location
Pearl Harbor, O'ahu, Hawaii, USA
Moloka'i, Hawaii, USA
Waikiki, O'ahu, Hawaii, USA
Honolulu, O'ahu, Hawaii, USA