NOAH'S ARK
DIRECTED BY MICHAEL CURTIZ/DARRYL F. ZANUCK (uncredited)
PRODUCED BY DARRYL F. ZANUCK
WARNER BROS (as The Vitaphone Corporation)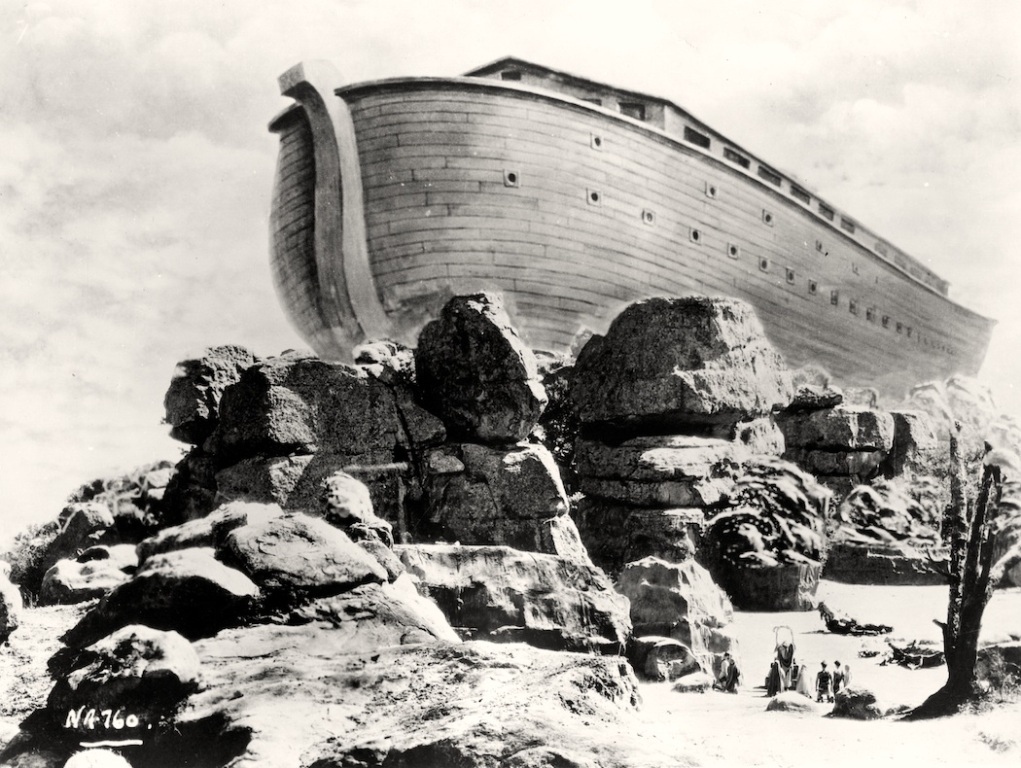 Information From IMDb
Plot Summary
After a short split prologue showing riches as the root of evil
in ancient and modern times, the film settles into 1914 France,
where the Orient Express is about to be wrecked when a bridge washes out.
Among those on board are Al and Travis, Americans
who are traveling Europe spending Travis' money, and Marie, a German girl.
The boys save Marie after the wreck and Travis falls in love with her.
When World War I breaks out Al wants to enlist,
but Travis can't, feeling loyal to Marie, a German.
By 1917 Al has enlisted, and Travis follows him shortly after marrying Marie.
Accused of being a German spy by a Russian agent,
she is sentenced to die but is recognized by Travis,
who is part of the firing squad.
The town they are in is shelled and they are all trapped underground,
during which a minister makes a lengthy parallel to ancient times
when the King of Akkad persecuted his subjects and defied Jehovah,
who finally sends a flood to wipe out mankind,
except for Noah and his family, whom he has instructed to build an ark
and fill it with two of every creature on earth.
Written by Ron Kerrigan
Full Cast
Dolores Costello ... Mary / Miriam
George O'Brien ... Travis / Japheth
Noah Beery ... Nickoloff / King Nephiliu
Louise Fazenda ... Hilda / Tavern Maid
Guinn 'Big Boy' Williams ... Al / Ham (as Gwynn Williams)
Paul McAllister ... Minister / Noah
Myrna Loy ... Dancer / Slave Girl
Anders Randolf ... The German / Leader of Soldiers
Armand Kaliz ... The Frenchman / Leader of the King's Guard
William V. Mong ... Innkeeper / Guard
Malcolm Waite ... The Blakan / Shem
Nigel De Brulier ... Soldier / High Priest
Noble Johnson ... Broker
Otto Hoffman ... Investor with Gun / Trader
Joe Bonomo ... Aide to Leader of Soldiers (uncredited)
Andy Devine ... Flood Extra (uncredited)
Alphonse Martell ... French Policeman (uncredited)
Torben Meyer ... Man on Train (uncredited)
Nina Quartero ... French Girl (uncredited)
Cliff Saum ... Soldier in Trench (uncredited)
Duke Morrison ... Flood Extra (uncredited)
Writing Credits
Darryl F. Zanuck (story) (as Darryl Francis Zanuck)
Anthony Coldeway (adaptation) (as Anthony Coldewey)
De Leon Anthony (titles)
Original Music
Alois Reiser (uncredited)
Cinematography
Barney McGill (photographed by)
Hal Mohr (photographed by)
Trivia
Three extras drowned during the filming of the flood scene.
One of the extras who survived the flood scene was John Wayne.
When cameraman Hal Mohr was shown how the climactic flood scene was to be shot, he objected on the grounds that it would place many of the extras in jeopardy. Mohr told the executives that while the trained stuntmen knew what to expect, the ordinary extras would have no idea what was coming, and many would be hurt. When his objections were overruled, he quit the picture. During filming of the scene, the huge torrents of water overwhelmed the actors; three were drowned, one was so severely injured his leg had to be amputated, and almost a dozen had broken limbs and other serious injuries.
John Wayne and Andy Devine were swimmers in the temple collapse sequence,
but they are not recognizable among the hundreds of other swimmers.
Movie Status
* This film has been preserved by the UCLA Film and Television Archive in conjunction with the project American Moviemakers: The Dawn of Sound.
* The "premiere" version, running 135 minutes, ran only at the opening engagement in Hollywood. By the time of the New York premiere some weeks later, the film had been trimmed by over 30 minutes. At least some of the cuts were of Vitaphone talking sequences that didn't work well. In particular, Paul McAllister (Noah/Minister) fared poorly, as all his talking scenes were removed.
* Vitaphone production reels #2821-2836
Dolores Costello came down with pneumonia while working on this film.
Memorable Quote
Al: This war is more than just a fight. It's more like a funeral. And everybody ought to be in the procession or the hearse.
Filming Locations
Big Basin, California, USA
Garden of the Gods, Iverson Ranch, Chatsworth, Los Angeles, California, USA
Iverson Ranch, Chatsworth, Los Angeles, California, USA
Watch this Clip
[extendedmedia]
[/extendedmedia]