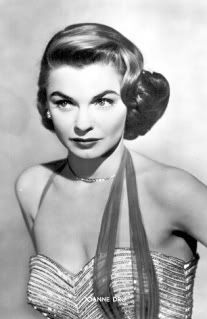 JOANNE DRU
INFORMATION FROM IMDb
Date of birth
31 January 1922
Logan, West Virginia, USA

Date of death
10 September 1996
Beverly Hills, Los Angeles, California, USA. (lymphedema)
Birth name
Joanne Letitia LaCock
Spouse
C. V. Wood Jr. (1972 - 1993) (his death)
George Pierose (1963 - ?)
John Ireland (7 August 1949 - 16 May 1957) (divorced) 2 children
Dick Haymes (21 September 1941 - July 1949) (divorced) 3 children
Trivia
Her mother was president of the Motion Picture Mothers 1975-76.
Sister of entertainer Peter Marshall. (See also Tommy Noonan.)
Aunt of professional baseball player Pete LaCock.
She had two sons by her marriage with John Ireland: John Ireland and Peter Ireland.
Personal quotes
[In an interview with Hedda Hopper in 1957, about her attitude toward westerns] "Once you're typed, you're lost."
[Same interview] "And those long gingham dresses with boned bodices are miserable things to wear."
Mini biography
The daughter of a West Virginia druggist, Joanne came to New York in 1940. In New York, she worked as a model and was cast by Al Jolson, as one of the showgirls in his Broadway play "Hold Onto Your Hats". When the show closed in 1941, Joanne married popular singer Dick Haymes and went with him to Hollywood. Discovered by a talent scout while working in the theater, Joanne made her screen debut in a film called Abie's Irish Rose (1946), and that picture almost ended her career. Two years later, she would become well known with her role of Tess in the classic Western Red River (1948). She followed that with another Western titled She Wore a Yellow Ribbon (1949), again playing opposite John Wayne. With two of the best Westerns directed by John Ford and Howard Hawks, the scripts submitted to her were predominately Western and she became typecast. This was from a woman who said "I simply hated horses...". In 1950, she was cast in another Western called Wagon Master (1950) which became the basis for the Ward Bond Television Series called "Wagon Train" (1957). Even though she did other roles besides Westerns, those roles were not what she is remembered for. She appeared in films like All the King's Men (1949), The Pride of St. Louis (1952) and Hell on Frisco Bay (1955). By the mid 50's, Western's were running out of steam and so was her screen career, so she turned to Television where she appeared on shows such as "Playhouse 90" (1956). In 1960, Joanne was cast in the role of the Eastern Owner of a Dude Ranch in the Television Series "Guestward Ho!" (1960). Perhaps even funnier that she would play an Easterner after all those Westerns is the fact that her character name was "Babs". The show ended in 1961.
Tony Fontana
MIni Biography-2
from Leonard Maltin's Movie Encyclopedia:
Beautiful, vivacious actress best remembered for her no-nonsense, gutsy heroines in the post-WW2 Western classics Red River (1948), She Wore a Yellow Ribbon (1949), and Wagon Master (1950). No shrinking violet, she; Dru seemed very much at home in horse operas, and made quite a few during the 1950s. A former show girl, she made a less than spectacular film debut in the excruciating Abie's Irish Rose (1946), but was effective in All the King's Men (1949), 711 Ocean Drive (1950), The Pride of St. Louis (1952), Outlaw Territory (1953), Forbidden (1954), Sincerely Yours (1955), Hell on Frisco Bay (1956), The Light in the Forest (1958), September Storm (1960), and Sylvia (1965). Her "comeback" appearance, in 1981's Super Fuzz was ill advised, to say the least. The sister of game-show host Peter Marshall, she was previously married to Dick Haymes and John Ireland (who directed and costarred with her in his 3-D Western Hannah Lee/Outlaw Territory in 1953).
Copyright © 1994 Leonard Maltin, used by arrangement with Signet, a division of Penguin Putnam, Inc.
Filmography
Actress
1. Poliziotto superpiù (1980) .... Rosy Labouche
... aka Super Snooper (Italy) (UK: video title)
... aka Super Fuzz (USA)
2. "Marcus Welby, M.D."
... aka Robert Young, Family Doctor
- Dark Corridors (1975) TV Episode
3. "The Smith Family"
- Remember Lisa (1971) TV Episode
4. "The Governor & J.J."
- P.S. I Don't Love You (1970) TV Episode
- Bye, George (1970) TV Episode .... Karen Bradshaw
5. "Bob Hope Presents the Chrysler Theatre"
... aka The Chrysler Theater
... aka Universal Star Time (syndication title)
- To Sleep, Perchance to Scream (1967) TV Episode .... Gina Sutton
6. "The Green Hornet"
... aka The Kato Show (Hong Kong: English title: informal title)
- Corpse of the Year: Part 2 (1967) TV Episode .... Sabrina Bradley
- Corpse of the Year: Part 1 (1967) TV Episode .... Sabrina Bradley
7. "The Long, Hot Summer"
- Nor Hell a Fury (1965) TV Episode .... Martha Ross
8. Sylvia (1965) .... Jane (Bronson) Phillips
9. "Burke's Law"
... aka Amos Burke, Secret Agent (USA: new title)
- Who Killed the Eleventh Best Dressed Woman in the World? (1964) TV Episode .... Solange Kelly
10. "Disneyland"
... aka Disney's Wonderful World (USA: new title)
... aka The Disney Sunday Movie (USA: new title)
... aka The Magical World of Disney (USA: new title)
... aka The Wonderful World of Disney (USA: new title)
... aka Walt Disney (USA: new title)
... aka Walt Disney Presents (USA: new title)
... aka Walt Disney's Wonderful World of Color (USA: new title)
- The Light in the Forest: Part 2 (1961) TV Episode .... Milly Elder
- The Light in the Forest: Part 1 (1961) TV Episode .... Milly Elder
11. "Guestward Ho!" (1960) TV Series .... Babs Hooten
12. September Storm (1960) .... Anne Traymore
13. "Goodyear Theatre"
... aka Award Theatre (USA: syndication title)
... aka Golden Years of Television (USA: cable TV title)
- Capital Gains (1960) TV Episode .... Kate Ballister
14. The Wild and the Innocent (1959) .... Marcy Howard
15. "The David Niven Show"
- The Lady from Winnetka (1959) TV Episode .... Ellen Baird
16. "Colgate Theatre"
- Adventures of a Model (1958) TV Episode .... Marilyn Woods
17. The Light in the Forest (1958) .... Milly Elder
18. "General Electric Theater"
... aka G.E. Theatre (USA)
- All I Survey (1958) TV Episode .... Alice Giles
19. "Studio One"
... aka Studio One Summer Theatre (summer title)
... aka Studio One in Hollywood (new title)
... aka Summer Theatre (summer title)
... aka Westinghouse Studio One
... aka Westinghouse Summer Theatre (summer title)
- The Brotherhood of the Bell (1958) TV Episode .... Suzie Sherrell
20. "Wagon Train"
... aka Major Adams, Trail Master
- The Nels Stack Story (1957) TV Episode .... Laura Collins
21. Drango (1957) .... Kate Calder
22. "Lux Video Theatre"
... aka Summer Video Theatre (USA: summer title)
- Paris Calling (1957) TV Episode
- Flamingo Road (1956) TV Episode .... Lane Bellamy
- An Angel Went AWOL (1954) TV Episode .... Polly
- Call Off the Wedding (1954) TV Episode .... Nancy
23. "Playhouse 90"
- The Blackwell Story (1957) TV Episode .... Elizabeth Blackwell
24. "Climax!"
... aka Climax Mystery Theater (USA)
- Night Shriek (1956) TV Episode .... Nancy
- The Darkest Hour (1955) TV Episode
25. "Studio 57"
... aka Heinz Studio 57 (USA: alternative title)
- Palm Springs Incident (1956) TV Episode .... Martha
26. "Celebrity Playhouse"
- Shadow of a Thief (1956) TV Episode
27. "Jane Wyman Presents The Fireside Theatre"
... aka Jane Wyman Presents (USA: rerun title)
... aka Jane Wyman Theater (USA)
- The Mirror (1956) TV Episode .... Kittura
28. "Schlitz Playhouse of Stars"
... aka Herald Playhouse (USA: syndication title)
... aka Schlitz Playhouse (USA: new title)
... aka The Playhouse (USA: syndication title)
- The Gentle Stranger (1956) TV Episode
- Richard and the Lion (1953) TV Episode
29. "The Ford Television Theatre"
... aka Ford Theatre (USA: short title)
- Passage to Yesterday (1955) TV Episode .... Lady Mary Tighe
- Celebrity (1955) TV Episode .... Myla Marshall
- Yours for a Dream (1954) TV Episode .... Wendy
- Just What the Doctor Ordered (1953) TV Episode .... Doctor
30. Sincerely Yours (1955) .... Marion Moore
31. "Letter to Loretta"
... aka The Loretta Young Show (USA: new title)
... aka The Loretta Young Theatre (USA: rerun title)
- The Waiting Game (1955) TV Episode .... Alice
32. The Dark Avenger (1955) .... Lady Joan Holland
... aka The Warriors (USA)
33. "Henry Fonda Presents the Star and the Story"
... aka The Henry Fonda Show (USA)
- Brief Affair (1955) TV Episode .... Pat Lowry
34. "Four Star Playhouse"
... aka Star Performance (USA: rerun title)
- A Kiss for Mr. Lincoln (1955) TV Episode
35. Hell on Frisco Bay (1955) .... Marcia Rollins
36. 3 Ring Circus (1954) .... Jill Brent
... aka Jerrico, the Wonder Clown
37. Day of Triumph (1954) .... Mary Magdalene
38. Southwest Passage (1954) .... Lilly
... aka Camels West (UK)
39. The Siege at Red River (1954) .... Nora Curtis
... aka Gatling Gun (USA)
40. Duffy of San Quentin (1954) .... Anne Halsey
... aka Men Behind Bars (UK)
41. Forbidden (1953) .... Christine Lawrence
42. "The Revlon Mirror Theater"
- Heads or Tails (1953) TV Episode
43. Hannah Lee (1953) .... Hannah Lee (Hallie McLaird)
... aka Outlaw Territory (USA: reissue title)
44. Thunder Bay (1953) .... Stella Rigaud
45. "Robert Montgomery Presents"
... aka Lucky Strike Theater
... aka Montgomery's Summer Stock
... aka The Robert Montgomery Summer Theater
- Betrayed (1953) TV Episode
46. My Pal Gus (1952) .... Lydia Marble
47. The Pride of St. Louis (1952) .... Patricia Nash Dean
48. Return of the Texan (1952) .... Ann Marshall
49. Mr. Belvedere Rings the Bell (1951) .... Miss Harriet Tripp
... aka Mr. Belvedere Blows His Whistle (USA: alternative title)
50. Vengeance Valley (1951) .... Jen Strobie
51. "Pulitzer Prize Playhouse"
- The Silver Cord (1951) TV Episode
52. 711 Ocean Drive (1950) .... Gail Mason
53. Wagon Master (1950) .... Denver
54. All the King's Men (1949) .... Anne Stanton
55. She Wore a Yellow Ribbon (1949) .... Olivia Dandridge
56. Red River (1948) .... Tess Millay
57. Abie's Irish Rose (1946) .... Rosemary Murphy
Herself
1. "The Hollywood Squares"
- Episode dated 4 August 1969 (1969) TV Episode .... Herself
- Episode dated 29 May 1967 (1967) TV Episode
2. "The Red Skelton Show"
... aka The Red Skelton Hour (USA: new title)
- Episode dated 2 December 1958 (1958) TV Episode .... Herself