TROUBLE ALONG THE WAY
DIRECTED BY MICHAEL CURTIZ
PRODUCED BY MELVILLE SHAVELSON
MUSIC BY MAX STEINER
WARNER BROS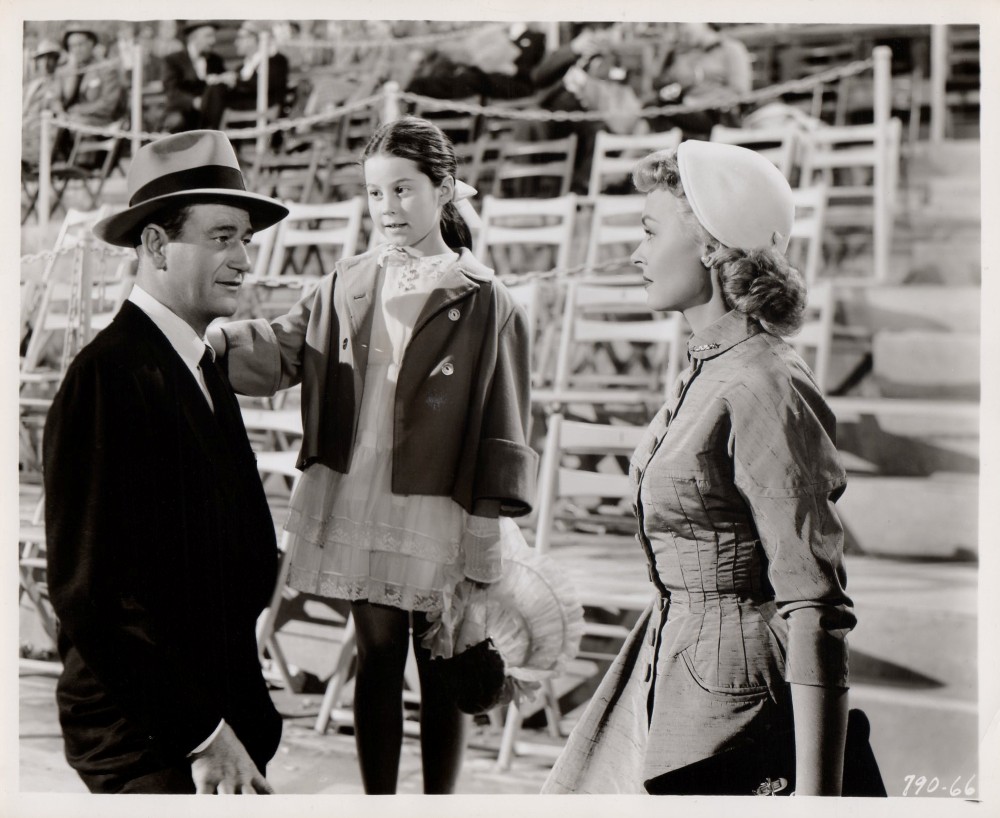 Photo with the courtesy of lasbugas

INFORMATION FROM IMDb
Plot Summary
Struggling to retain custody of his daughter following his divorce,
football coach Steve Williams finds himself embroiled
in a recruiting scandal at the tiny Catholic college
he is trying to bring back to football respectability.
Full Cast
John Wayne ... Stephen 'Steve' Aloysius Williams
Donna Reed ... Alice Singleton
Charles Coburn ... Father Matthew William Burke
Tom Tully ... Father Malone
Sherry Jackson ... Carol Williams
Marie Windsor ... Anne Williams McCormick
Tom Helmore ... Harold McCormick
Dabbs Greer ... Father Peterson
Leif Erickson ... Father Provincial aka Ed
Douglas Spencer ... Father Procurator aka George
Lester Matthews ... Cardinal William Patrick O'Shea
Chuck Connors ... Stan Schwegler
Murray Alper ... Bus Driver (uncredited)
Phil Chambers ... Bishop (uncredited)
James Dean ... Football Spectator (uncredited)
Frank Ferguson ... Mike Edwards (store proprietor) (uncredited)
James Flavin ... Buck Holman (coach) (uncredited)
Fritz Ford ... Football Player (uncredited)
Jack Gargan ... Court Bailiff (uncredited)
Richard Garrick ... Judge (uncredited)
Ned Glass ... Pool player (uncredited)
Fred Graham ... Bill Sackheim - Santa Clara team manager (uncredited)
Merv Griffin ... Football Broadcaster (voice) (uncredited)
Harry Hines ... Character (uncredited)
Robert Keys ... Joe - assistant Santa Clara team manager (uncredited)
Paul Kruger ... Court Bailiff (uncredited)
Lou Marcelle ... Trailer Narrator (voice) (uncredited)
Frank Marlowe ... Drunk in Bar with Dog (uncredited)
Larry Merrill ... Jeffrey Marlowe (uncredited)
Jack Mower ... Domestic Relations Court Staffer (uncredited)
William H. O'Brien ... Joe - Bartender (uncredited)
Jack Pepper ... Irish Tenor / Pianist in Saloon (uncredited)
Howard Petrie ... Marvin Adams, Polo Grounds manager (uncredited)
Angi O. Poulos ... Saloon Waiter (uncredited)
Vicki Raaf ... Beanie, Saloon Girl (uncredited)
Bill Radovich ... Moose McCall (uncredited)
Olan Soule ... The Cardinal's Secretary (uncredited)
Anitra Stevens ... Bobo, Saloon Girl (uncredited)
Arthur Tovey ... Football Spectator (uncredited)
Renata Vanni ... Maria's Italian Mother (uncredited)
Ralph Volkie ... Referee (uncredited)
Charles Watts ... Mr. Wallace, Alumnus (uncredited)
Guy Way ... Football Player (uncredited)
Jeri Weil ... Carol, Age 5 (uncredited)
Gayne Whitman ... Lawyer Grummet (uncredited)
Writing Credits
Robert Hardy Andrews story
James Edward Grant uncredited
Douglas Morrow story
Jack Rose screenplay
Melville Shavelson screenplay
Original Music
Max Steiner
Cinematography
Archie Stout
Trivia
Several Loyola-Marymount football players played in the football scenes.
James Dean has an uncredited part as a 'Football Spectator' in this film.
The external scenes at the college were shot at Pomona College. The building where John Wayne calls to Donna Reed at he end of the film is the Hall of Music at Pomona.
The football game scenes were filmed at the Polo Grounds in New York, which at the time was the home field of the NFL's New York Giants.
Goofs
* Errors in geography: Although the movie is set at a college in New York, there is a California flag flying near the stadium when Steve first meets the football team.
* Errors made by characters (possibly deliberate errors by the filmmakers): Steve says "Watermelon bottom and her daughter." The daughter was the one the kids called Watermelon bottom.
* Errors made by characters (possibly deliberate errors by the filmmakers): When Father Burke first announces his intention to solve the school's financial crisis, he says that his plan is in "Deuteromony" (rather than Deuteronomy), chapter 32, verse 15, a mispronunciation unlikely for a seasoned cleric. Additionally, when the others look it up, they read a paraphrase of an excerpt only, not the whole verse.
* Crew or equipment visible: Camera shadow crosses Anne and Harold on couch just before Steve enters room and catches them in clinch.
Filming Locations
California