BLOOD ALLEY
DIRECTED BY WILLIAM A.WELLMAN/JOHN WAYNE (uncredited)
BATJAC PRODUCTION
WARNER BROS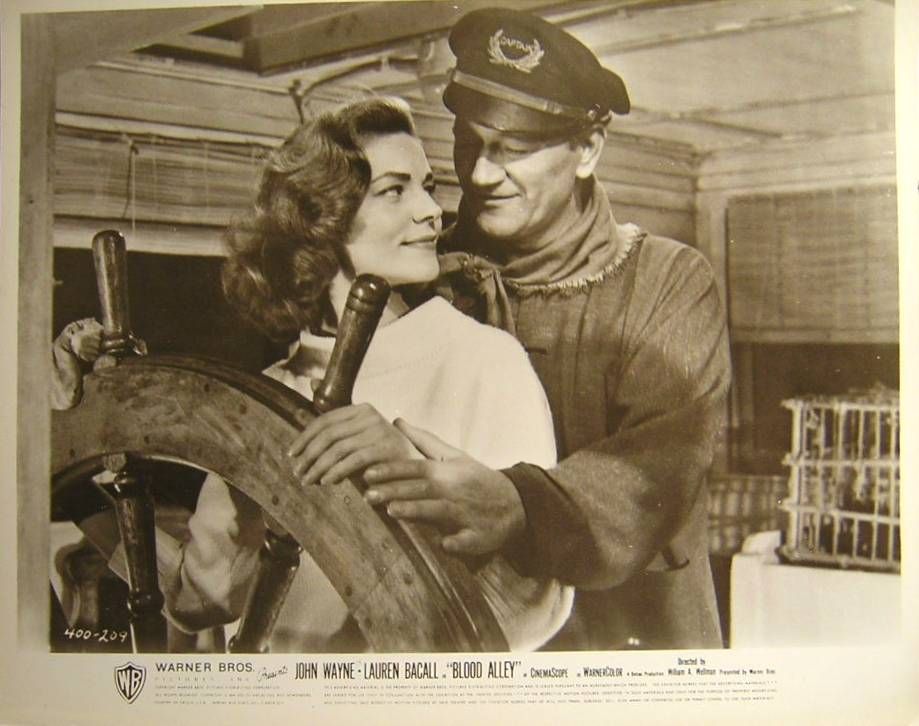 Photo with the courtesy of lasbugas

INFORMATION FROM IMDb
Plot Summary
Wilder(John Wayne), an adventurous merchant marine captain, who knows every current,
port and prevailing wind in the far east, is approached by oppressed villagers
,to lead them to the saftey of Hong Kong.
Full Cast
John Wayne .... Capt. Tom Wilder
Lauren Bacall .... Cathy Grainger
Paul Fix .... Mr. Tso
Joy Kim .... Susu, Cathy's maid
Berry Kroeger .... Old Feng (as Berry Kroger)
Mike Mazurki .... Big Han
Anita Ekberg .... Wei Ling
George Chan .... Mr. Sing (uncredited)
W.T. Chang .... Mr. Han (uncredited)
David Chow .... Boat man (uncredited)
Chester Gan .... Ferry Boat Captain (uncredited)
Lowell Gilmore .... British officer (uncredited)
James Hong .... Communist soldier (uncredited)
Eddie Luke .... Feng's #2 nephew (uncredited)
Henry Nakamura .... Tack, engineer (uncredited)
Walter Soo Hoo .... Feng's #1 nephew (uncredited)
Victor Sen Yung .... Cpl. Wang (uncredited)
Stunts
David Chow .... stunts (uncredited)
Gene Coogan .... stunts (uncredited)
Evelyn Finley .... stunts (uncredited)
Duke Green .... stunts (uncredited)
Tom Hennesy .... stunts (uncredited)
Stubby Kruger .... stunts (uncredited)
Sharon Lucas .... stunts (uncredited)
Shirley Lucas .... stunts (uncredited)
Harvey Parry .... stunts (uncredited)
Regis Parton .... stunts (uncredited)
Peter Peterson .... stunts (uncredited)
Jack Sterling .... stunts (uncredited)
Terry Wilson .... stunts (uncredited)
Writing Credits
Albert Sidney Fleischman novel Blood Alley
Albert Sidney Fleischman screenplay
Original Music
Roy Webb
Cinematography
William H. Clothier
Trivia
Robert Mitchum was originally cast as Capt. Wilder. He was fired from the film after an altercation in which he shoved the film's transportation manager into San Francisco Bay. Gregory Peck subsequently turned down the role of Capt. Wilder, and Humphrey Bogart wanted a $500,000 salary, which would have put the film over budget. Without a major male star involved, Warner Bros. contacted producer John Wayne, threatening to pull out of their distribution deal for the film unless he took the role himself. To keep his new production company Batjac afloat, Wayne agreed to play Capt. Wilder.
Average Shot Length = ~6.2 seconds. Median Shot Length = ~5.6 seconds. Both of these figures are fast for an early CinemaScope film, and much faster than William A. Wellman's first CinemaScope film, The High and the Mighty (1954).
John Wayne appeared in an episode of "I Love Lucy" (1951) to promote this film.
There was some surprise when Lauren Bacall agreed to make the movie since she was a left-wing Democrat and the film was right-wing propaganda.
Goofs
* Revealing mistakes: When Captain Wilder leans against the window, the wall moves.
* Continuity: Bacall tells Wayne that the map he had been making was burned in the kitchen because there was no time to hide it before the troops arrived. A short time later, Wayne is seen writing on the same map (note the human anatomy on the front side of it).
* Continuity: When Wilder says "Half the Red navy's out there ...", the position of the wheel and the placement of his hands on it changes between shots.
* Revealing mistakes: In three scenes with Captain Wilder and Big Han are talking, the sampan is not moving. The trees reflected in the water behind the sampan are the give away.
* Revealing mistakes: Two scenes were definitely "low budget" and were obviously scale mockups that weren't believable: 1. When the wood goes through the paddle, this is obviously a 2x4 going through a small model. 2. As the paddleboat comes into Hong Kong, it is clearly models and a fake city.
* Revealing mistakes: When the ferry pulls into Hong Kong, they encounter a Royal Navy vessel with close-ups of the sailors. Ordinarily, British sailors wear a tally on their caps with the name of their ship printed on it. However, the sailors' tallies only have "HMS" on them and no ship's name.
Filming Locations
Belvedere Island, California, USA
Colusa County, California, USA
San Francisco, California, USA
San Rafael, California, USA
Stockton, California, USA
Watch the Trailer
[extendedmedia]
[/extendedmedia]