RIO LOBO
PRODUCED AND DIRECTED BY HOWARD HAWKS
MUSIC BY JERRY GOLDSMITH
NATIONAL GENERAL PICTURES/CINEMA CENTER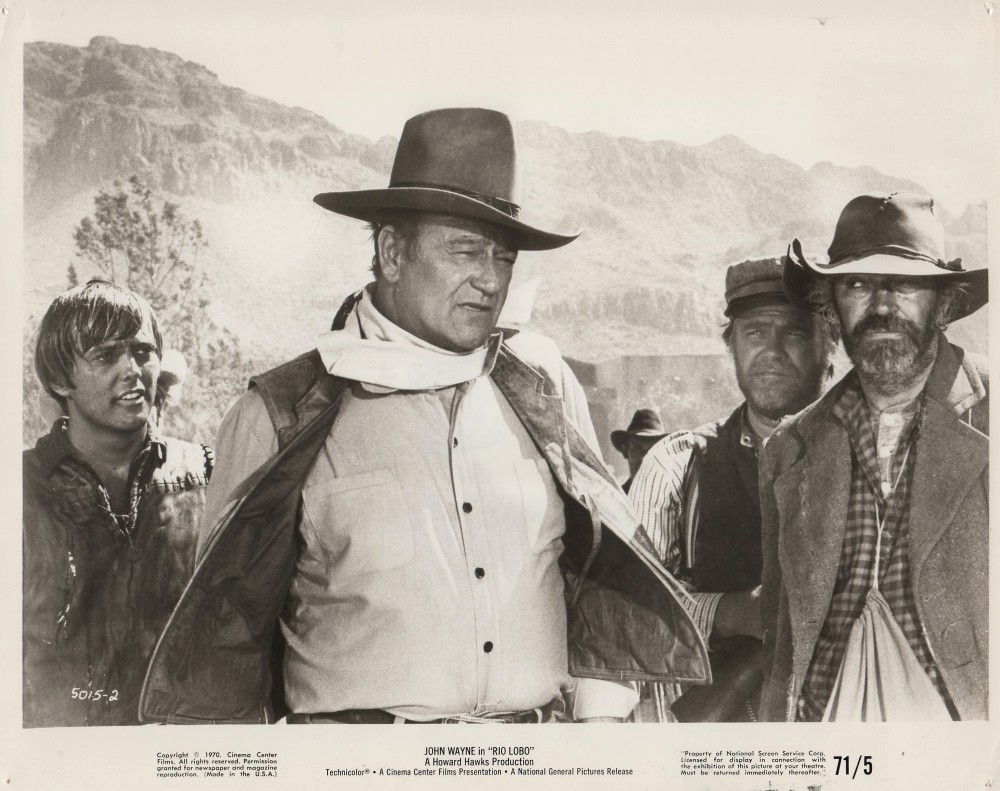 Photo with the courtesy of lasbugas

INFORMATION FROM IMDb
Plot Summary
Col. Cord McNally an ex union officer teams up with a couple of ex Johnny Rebs
to search for the traitor who sold information to the South during the Civil War.
Their quest brings them to the town of Rio Lobo,where they help recover this little Texas town
from ruthless outlaws who are led by the traitor they were looking for.
Summary written by Christopher D. Ryan
Full Cast
John Wayne .... Col. Cord McNally
Jorge Rivero .... Capt. Pierre Cordona aka Frenchy
Jennifer O'Neill .... Shasta Delaney
Jack Elam .... Phillips
Christopher Mitchum .... Sgt. Tuscarora Phillips
Victor French .... Ketcham (boss of Rio Lobo)
Susana Dosamantes .... Maria Carmen (Tuscarora's girlfriend)
Sherry Lansing .... Amelita
David Huddleston .... Dr. Ivor Jones (Rio Lobo dentist)
Mike Henry .... Rio Lobo Sheriff 'Blue Tom' Hendricks
Bill Williams .... Blackthorne Sheriff Pat Cronin
Jim Davis .... Rio Lobo Deputy
Dean Smith .... L/Cpl. Bide
Robert Donner .... Whitey Carter (Rio Lobo deputy)
George Plimpton .... Gunman #4
Edward Faulkner .... Lt. Harris
Peter Jason .... Lt. Forsythe (gold train detail officer)
Chuck Courtney .... Chuck
Robert Rothwell .... Gunman #3
Don 'Red' Barry .... Feeny (bartender of saloon outside POW camp) (uncredited)
Harold Cops .... (uncredited)
Stanley Corson .... (uncredited)
Sondra Currie .... (uncredited)
José Espinosa .... (uncredited)
Chuck Hayward .... (uncredited)
Lance Hool .... Picket (uncredited)
Frank Kennedy .... (uncredited)
Charlie Longfoot .... (uncredited)
John McKee .... (uncredited)
Boyd 'Red' Morgan .... Train engineer (uncredited)
Gregg Palmer .... Pete (henchman) (uncredited)
Jim Preiean .... (uncredited)
Chuck Roberson .... Corporal in baggage car (uncredited)
Danny Sands .... (uncredited)
Anthony Sparrow Hawk .... (uncredited)
Bob Steele .... Rio Lobo deputy (uncredited)
Tommy Tedesco .... Guitar player (opening credits) (uncredited)
Ethan Wayne .... (uncredited)
Hank Worden .... Hank (hotel clerk) (uncredited)
Writing Credits
Leigh Brackett
Burton Wohl also story
Cinematography
William H. Clothier
Second Unit Director or Assistant Director
Yakima Canutt .... second unit director
Mike Moder .... assistant director
Stunts
Joe Canutt .... stunts (uncredited)
Tap Canutt .... stunts (uncredited)
Chuck Courtney .... stunts (uncredited)
Jerry Gatlin .... stunts (uncredited)
Chuck Hayward .... stunts (uncredited)
Ace Hudkins .... stunts (uncredited)
John Hudkins .... stunts (uncredited)
Terry Leonard .... stunts (uncredited)
John McKee .... stunts (uncredited)
Boyd 'Red' Morgan .... stunts (uncredited)
Hal Needham .... stunts (uncredited)
Rudy Robbins .... stunts (uncredited)
Chuck Roberson .... stunts (uncredited)
Danny Sands .... stunts (uncredited)
Dean Smith .... stunts (uncredited)
Neil Summers .... stunts (uncredited)
Jack Williams .... stunts (uncredited)
Rodd Wolff .... stunts (uncredited)
Trivia
Writer and reporter George Plimpton was cast in a minor role in this film (4th Gunman) while collecting research on the film industry.
Howard Hawks's final film.
Howard Hawks later said, "I didn't think it was any good." He also blamed the film's poor critical and commercial performance on John Wayne, saying that at 63 the star was now too old to carry a movie.
Robert Mitchum declined an offer from Howard Hawks to reprise his El Dorado (1966) role in this film. He told Hawks the script was "an even bigger piece of crap than 'El Dorado'."
When John Wayne visits Bill Williams in the sheriff's office, there is a wanted poster on the wall for Hondo Lane, the character Wayne played in Hondo (1953).
John Wayne was seriously ill during filming, and had great difficulty getting on and off his horse.
Jack Elam, playing the "Old Man", was more than a decade younger than John Wayne.
During a break in filming John Wayne collected his Best Actor Oscar for True Grit (1969) from Barbra Streisand at The 42nd Annual Academy Awards (1970) (TV). When he returned, every member of the cast was wearing an eye patch - including his horse!
Film debut of Peter Jason.
Goofs
* Anachronisms: In the railroad track greasing scene, some of the Confederate cavalrymen are wearing bandoleers containing post Civil War metallic cartridges.
* Errors in geography: Many scenes that take place "in Texas" have saguaro cacti in them. Saguaros only grow in parts of Arizona and Mexico; they don't grow in Texas.
* Continuity: When Col. McNally, Capt. Pierre Cordona, and Shasta Delaney awake in their camp at the burial site, it is morning, but the lack of shadows would indicate a time closer to midday.
* Continuity: In the saloon, the cork in whiskey bottle disappears and reappears between shots.
* Anachronisms: All of the major characters in the film are seen wearing/using Colt Single Action Army revolvers shortly after civil war ends (1865). The gun wasn't introduced until eight years later (1873).
* Audio/visual unsynchronized: When McNally and his companions arrive at Phillips's farm, Phillips walks to the window saying a phrase without moves his lips.
* Continuity: When McNally, Cardona and Shasta knock on Maria Carmen's door, she rushes to put on a shawl which barely covers her. But, when the door opens and the shot is from outside, the shawl completely covers her shoulders.
* Continuity: Shortly before the fast going captured train is stopped by ropes tightened across the rails there are a number of shots in which there is no one on the second wagon of the train. It is obvious from the foregoing shots that there should be about nine confederate soldiers on it - including Capt. Cordona.
* Continuity: When Cordona and Tuscarora are released from the POW camp, Col McNally buys them a drink. When he picks up the glasses from the bar, they are upside down in his hand, when he sets them down on the table they are right side up with his hand never having changed position.
* Audio/visual unsynchronized: During the final shootout, when Hendricks shoots Ketcham, McNally mouths some words right before he shoots at Hendricks, but there is no audio.
* Continuity: When McNally, Cardona and Shasta are in Cardona's room and Shasta is just waking up after fainting, she sits up and the covers fall down to her waist, then they show a distant scene and the covers are around her neck, then a close up scene and the covers are around her waist again.
* Continuity: When McNally is carrying Shasta, Cordona is leading the way to the stairs. When the camera angle changes, McNally is in front of Cordona.
* Continuity: When Mr. Phillips is showing Ketchum that he has the triggers tied back on his shotgun right after they capture him, the long shot shows Ketchum buckling his belt, when they go to a close up, his hands are gone and the belt is buckled. When the camera angle changes back to a longer shot, he is still buckling his belt.
* Anachronisms: Most of the repeating rifles being used are Winchester model 94's, introduced many years after the time that the movie is set.
* Revealing mistakes: Leaving Ketchum's home, a body double is used for John Wayne. There seems to be no reason for it as it is a benign scene requiring very little physical exertion.
* Continuity: During the fight inside the house, a lamp breaks and Ketcham's pants catches fire. When he leaves the house there are no scorch marks on Ketcham's pant legs.
Filming Locations
Cuernavaca, Morelos, Mexico
Old Tucson - Tucson, Arizona
Previous discussion:-
Rio Lobo